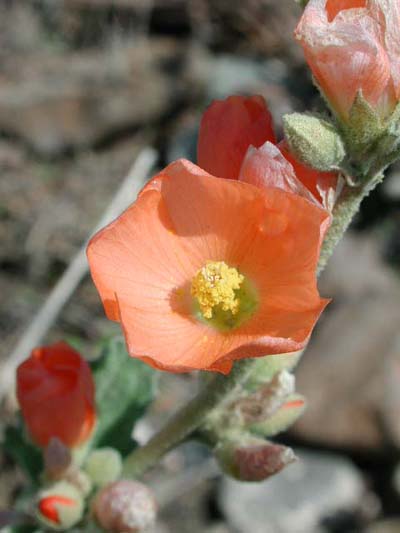 Photographed in the Hedgepeth Hills, Glendale, Arizona, USA, March 2003.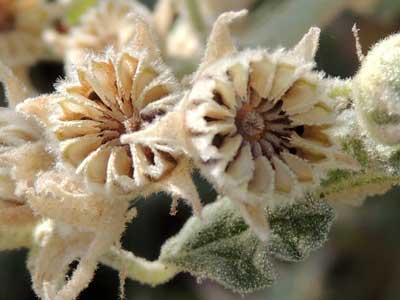 Mature fruit - about 14 carpels in a pinwheel shape - here each has split to release the seeds. Observed at Hassayampa Nature Conservancy, Arizona, USA, April 2014.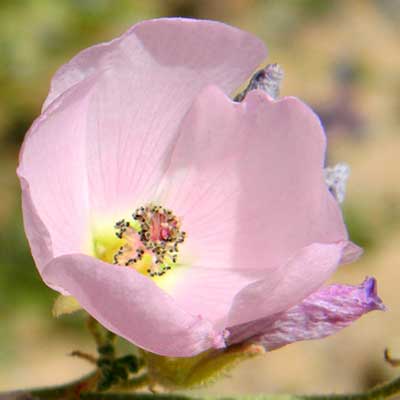 FLOWERS: Spires of abundant, large, peach-colored flowers make this an attractive spring wildflower especially along roadways where runoff affords a bit more moisture. Flower color can vary to shades of red and grenadine or even white. The numerous stamens are fused by their filaments into a column surrounding the style. The bloom at right was photographed south of Florence, Arizona in April 2010.

SHRUBBY: Woody portions mostly restricted to crown; plants become very inconspicuous after drought or hard winter frosts. Usually less than 1 meter tall.

LEAVES: Leaves and stems are covered with numerous, minute star-shaped hairs that give a sandy texture and silvery appearance. These hairs rub off and can irritate the eyes.

RANGE: Frequent throughout the Sonoran Desert in Arizona and Mexico on hillsides, wash banks, roadsides and at edges of agricultural areas.

FRUIT: Dry capsules in a disc-shaped arrangement that split apart on maturity; i.e. a shizocarp.

UNARMED.
Malvaceae -- Mallow Family
Sponsored Links:
More Information: